Source: Electronic Intifada
Kefah al-Zibda's family has a 200-square-meter plot of agricultural land near Abasan al-Kabira, a town in Gaza.
In 2006, while tending to a crop of vegetables, which he sells at the local market, al-Zibda spotted a round metal object, covered in something like copper, sitting atop the soil.
As soon as he touched it, it exploded. His cousin heard the explosion and called an ambulance.
Unexploded Israeli ordnance is scattered throughout the Gaza Strip, with at least 1,200 unexploded bombs reportedly found in 2021 in Gaza.
Al-Zibda was 18 at the time of his injury. He is now 34 and partially paralyzed. And while he was lucky to survive the explosion, he has spent the past 16 years negotiating life as a person with a disability in the Gaza Strip.
He has found that the already extant difficulties of life in Gaza are compounded for himself and others who have a disability.
Marginalized by society
Al-Zibda has both struggled to access resources that would make his life easier and to receive medical treatment that would improve his condition.
Between 2008 and 2021, he applied 13 times for a travel permit to the West Bank, and Israel has rejected every single one of those requests.
In 2008, two years after his injury, doctors in Gaza told al-Zibda that his knees were calcifying and that the arteries to his legs were obstructed. He prepared to travel to Nablus for knee surgery, but Israel refused his permit for travel.
"Finally, I had no other choice but to go to Egypt, where I had surgery on my knees," he said. "But, unfortunately, it failed."
In 2016, he traveled again to Egypt for another knee surgery, but it also failed, producing no improvement in his condition.
Mahmoud Abu Kmail, deputy manager of the Palestinian General Union of People with Disability, agrees that life for people with a disability in Gaza is trying, whether it's traveling outside of Gaza to receive medical treatment or accessing resources like an air mattress.
"Some people with disabilities," he added, "don't feel they belong to society due to marginalization and challenges they face."
After al-Zibda's initial injury in 2006, doctors advised him to use an air mattress to avoid bedsores, yet even this has proved difficult.
"Although the air mattress helps me," he said, "the electricity outage for eight to 16 hours daily exacerbates my suffering as I have had bedsores for over a decade."
"It takes my air mattress 30 minutes to charge and the same period to collapse after the electricity is cut."
He has no alternate source of power for when the electricity goes out, so he is also unable to charge the battery of his scooter, which requires 10 hours of charging to go 20 miles.
"When the electricity is cut off, I can't get out of the house if the scooter is not charged," he said. Even when his scooter is charged, the unpaved streets make mobility difficult.
Abu Kmail noted that accessibility is an ongoing issue in the Gaza Strip.
"We discussed the adaptation of public buildings millions of times with officials, who always reply that these buildings are old and we can't afford to build new ones," Abu Kmail said. "If we get financial aid, we will build new accessible buildings."
"I had to crawl the stairs all the way up"
Yusuf Abu Ouda, 37, has struggled with accessibility issues in Gaza's buildings and on its streets for years.
Abu Ouda, along with three of his sisters, has cerebral palsy and requires a scooter to leave his home.
In 2021, when his scooter broke, he tried to have it fixed but was told that the replacement parts would be even more expensive than just purchasing a new scooter. He requested a new scooter from Gaza's social development ministry but his request has not been fulfilled.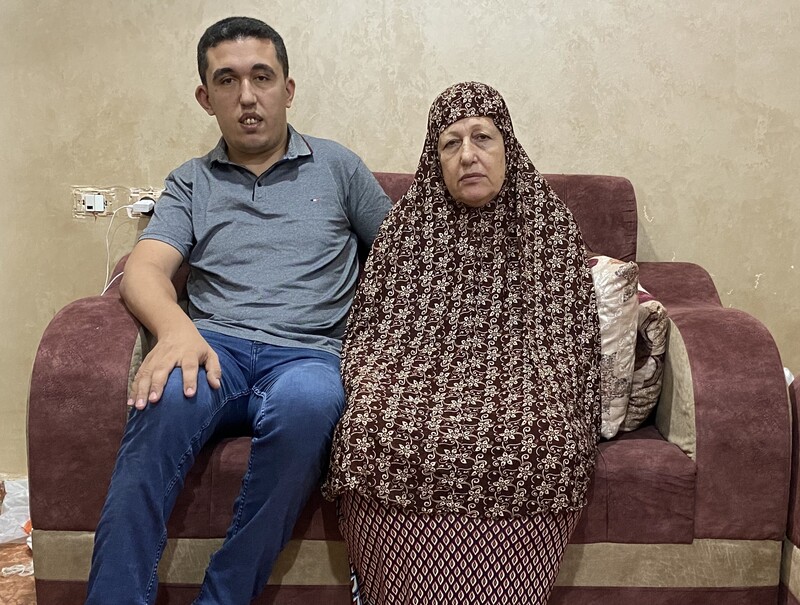 "Even if I had a scooter, buildings are not accessible for us," Abu Ouda said. "One time, I went to one of the governmental buildings, but there was no accessible road for people with disabilities. I had to crawl the stairs all the way up. I felt humiliated."
Abu Ouda is unemployed, and his only source of income is governmental assistance, around $500, which is supposed to be paid every three months. But due to the lack of incoming funds from the Palestinian Authority, he has received about $115 a year.
In 2012, he applied for a receptionist post and was accepted to work for Gaza's ministry of religious affairs.
"They terminated my contract after three days," he said. "I tried to appeal but nothing changed."
Abu Ouda also has cancer of the pituitary gland. Doctors in Gaza are unable to treat it, so he is seeking treatment elsewhere.
A system that runs off nepotism
Abdullah Shakhsa, 36, who has cerebral palsy, has also struggled with broken scooters, unemployment and a lack of building accessibility, making it very difficult to support his nine-member family.
"I always apply for jobs but never receive a reply," Shakhsa said. He once worked as a receptionist in 2000 for two months, but since then he has been unable to find work.
Shakhsa believes that certain systems in Gaza run off nepotism, that you have to know somebody in power to get a job, receive regular food vouchers or even get a decent scooter.
"The Ministry of Social Development gave me this dilapidated scooter. Look, it also doesn't have a handbrake," he said, noting that in order to brake, he has to run into a wall.
Last year, when his battery stopped working, he could not afford a new one.
"I had to use the manual wheelchair for nine months until a charitable man gave me [around $115] to buy a used battery," he said.
Since the cost of a new scooter can run from $2,000 to $3,500 in Gaza, which is too expensive for many people who depend on social welfare, Shakhsa applied to many nonprofit societies to get a replacement.
"All of them told me they hadn't received funds," he said. "But if I had connections, their answer would change."
"I appeal to the international community to help marginalized people with disabilities in Gaza who don't belong to any [political] parties. We suffer a lot from nepotism, even in distributing [food] vouchers."
Inhumane travel restrictions
In May 2021 – during a major Israeli attack on Gaza – Kefah al-Zibda was sitting in his house when shrapnel came flying through his windows.
He lost two of his fingers as a result.
"When I called the ambulance, paramedics asked me to walk to the street due to our dangerous unpaved street," he said. "I had to crawl for 200 meters while bleeding."
Medical treatment became an even more pressing need for al-Zibda after this incident.
In 2022, he sought the help of Al Mezan, a Gaza-based human rights group.
Al Mezan petitioned the Israeli high court, which permitted his travel to Nablus for treatment on 10 July this year.
Al-Zibda's surgery was successful, yet, when he applied for a permit for his wife to accompany him during an October surgery, Israel rejected this permit. He still has not had his follow-up surgery.
Samir al-Manama, a senior lawyer at Al Mezan, described the Israeli restrictions on travel permits for medical treatment as inhumane.
"This is an abusive, arbitrary way of treating people with disabilities," he said. "Kefah al-Zibda was prevented [from travel] for no clear reasons."
Walaa Sabah is a freelance writer and the community outreach officer at We Are Not Numbers in Gaza.
Shortlink for this post: https://daysofpalestine.ps/?p=28899