During Israel's "Operation Pillar of Defense", on the Gaza Strip last year, 173 Palestinians were killed, including 113 civilians, of whom 62 were men, 13 were women and 38 were children. In additiion to 1,221 injuries. The number of Palestinian civilian casualties reveals the indiscriminate and disproportionate nature of the Israeli strikes. Many of those who survived the offensive were left with psychological trauma and severe injuries.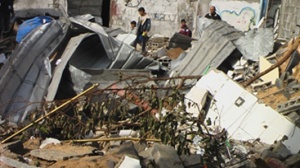 "You can rebuild a house but not a home"

Amna Hijazi – Jabaliya M. Camp
Amna Muhammad Hijazi – Jabaliya M. Camp
On 19 November 2012, during the Israeli offensive on the Gaza Strip, Amna's home was levelled by an Israeli aircraft. Following the strike, Amna, 44, and her children were pulled from the rubble of their home. Ten days later, Amna woke up from a coma in al-Arish Hospital in Egypt to discover that her husband, Fu'ad Hijazi, 46, was killed in the air strike along with two of her children Suhayb, 2, and Muhammad, 4. Muhammad had been named after his oldest brother who was killed in an Israeli airstrike on Gaza in 2008, when he was 17.
Following the strike, Amna remained in hospital for two months, as she had sustained broken bones in her back and limbs, a fractured skull and suffered from chronic neurological disorders. Amna is still unable to walk or control her body movements due to the serious head injury she sustained, which prevents her from attending to her house and children. Amna's remaining five children were also wounded during the airstrike; Mustafa, 20, Ashraf, 16, Sundus, 14, Usama, 14, and Mus'ab, 2, all sustained head injuries. Mustafa and Ashraf also partially lost their sight. The youngest, Musa'b, suffers from psychological trauma and a speech impediment due to the loss of his twin brother, Suhayb.
After receiving medical treatment, Amna and her children returned to the Gaza Strip and moved into rented accommodation while waiting for their house to be rebuilt. However, according to Amna, "one can rebuild a house but not a home". Amna and her five children are provided for by her deceased husband's pension of 1400 Shekels/month (approximately USD 400). (Al-Haq Affidavit No. 9139/2013)
Ghaliya Salem Abu-'Amra – Deir al-Balah District
On the morning of 19 November 2012, 'Leiyyan Abu 'Amra, 51, was killed on his way to work, along with two of his friends, approximately two kilometres away from his house. His wife Ghaliya, 52, and seven children were at home at the time of the incident. Ghaliya recalls hearing the sound of shelling nearby and immediately rushed outside to check on her husband, who had just left the house. Ghaliya went into shock when she realised that 'Leiyyan had been killed, and lost consciousness.
Since 'Leiyyan's death Ghaliya's life has become much more difficult. As a widowed mother, she worries about her children and how she will provide for them. Ghaliya misses the presence of her husband at home with the family. (Al-Haq Affidavit No. 9137/2013)
Mahdiyya Mas'oud Dughmosh – Gaza City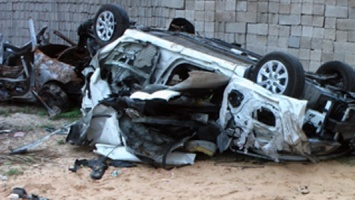 On 20 November 2012, Mahdiyya, 51, recalls hearing the sound of a loud airstrike by an Israeli aircraft close to her house, in the Sabra neighbourhood. Immediately, she left the house, fearing that the strike might have harmed one of her twin sons, Subhi and Salah, 29, who were both due to arrive home. When she reached the street, Mahdiyya saw Salah's car on fire. After the neighbours had managed to extinguish the fire, Mahdiyya saw that Salah's body was inside and that he had died as a result of the strike.
Minutes later, Mahdiyya heard another strike nearby and ran towards the source of the sound, praying that her other son, Subhi, was unharmed. When Mahdiyya arrived on the scene, she saw that Subhi's car was on fire and his body was lying next to it, almost entirely burnt. Mahdiyya broke down and lost consciousness. Two of Subhi's cousins had been in the car with him and were also killed in the strike. (Al-Haq Affidavit No. 9138/2013)
Najwa 'Leiyyan Abu-Daqqa – Khan Younis District
On 18 November 2012, Najwa, 50, was in her garden when an Israeli airstrike hit and wounded her severely. Najwa does not remember what happened other than that her body was covered in blood and the air was filled with smoke. Shortly afterwards, she lost consciousness and remained in a coma for four months. She was transferred to Al-Makased Hospital in Jerusalem due to the gravity of her injuries. Her arms and feet were broken and she had sustained injuries to her chest, back and abdominal area. Najwa underwent several surgical procedures and remained in hospital for a total of six months. She now needs a wheelchair and requires assistance when eating, sitting up and making any movements.
Since being discharged from hospital, Najwa has to travel to Jerusalem every two months to undergo follow-up surgery. In order to do so, she has to pass through the Eretz crossing between the Gaza Strip and Israel. Each time she travels through the crossing, Israeli soldiers strip search Najwa, search her belongings and check her permit to travel into Israel. This process takes almost three hours. Due to the administrative restrictions imposed by Israel, it is especially difficult for Najwa to obtain a permit for a companion to travel with her to Jerusalem for her medical treatment. This is particularly problematic due to Najwa's severely restricted mobility.
Najwa is frustrated that she can no longer attend to her house and family due to her immobility and chronic pain. Also, the cost of her medicine is high and it is sometimes unavailable in Gaza due to Israel's six-year long illegal closure of the territory. (Al-Haq Affidavit No. 9136/2013)
The Gaza Strip is entirely surrounded by a concrete wall, a double wire fence, watchtowers and closed crossings, allowing Israel to monitor and restrict the transport of goods and materials into the territory. In the past year, the only departure point from the Gaza Strip, the Rafah border crossing with Egypt, has been frequently closed. These closures, compounded by Israel's blockade of the territory, have resulted in electricity and fuel shortages. Currently, residents of the Gaza Strip have access to electricity for only six hours a day, as the amount of fuel that can enter the territory is restricted by Israel. This electricity shortage has caused the sewage networks to overflow onto the streets in many districts.
When the ceasefire agreement was signed between Hamas and Israel on 21 November 2012, it called for Israel to refrain from targeting residents in border areas. However, the Israeli military has continued to open fire directly on Palestinians in the buffer zone, both on land and sea. Furthermore, Israel has not been held accountable for any of the acts committed or for the material and psychological damage that followed the attacks on Palestinian civilians in the Gaza Strip. Nor has Israel launched an investigation into violations of international humanitarian law during Operation Pillar of Defense to determine whether individuals may be held criminally accountable. Al-Haq stresses that in armed conflict all parties must respect international humanitarian law and reiterates that Israel must fulfil its duty to investigate violations of international law amounting to war crimes and hold those responsible to account.
In the aftermath of last year's Israeli offensive on the Gaza Strip, Al Haq's field researchers collected video testimonies from some of those whose lives have been devastated by Israel's "Operation Pillar of Defense."
Source: Al-Haq
Shortlink for this post: https://daysofpalestine.ps/?p=30044