Source: Electronic Intifada
Ibrahim Mansour had spent six months looking for work.
He went to every coffee shop in Nahr al-Bared refugee camp and the nearby Lebanese city of Tripoli asking for jobs. It was all to no avail.
"I am almost 30 and I still don't have a regular job," he said.
The only work he has found in recent years has been as a laborer on projects to rebuild parts of Nahr al-Bared that were destroyed back in 2007.
Deeply frustrated, Mansour decided to emigrate.
With the hope of reaching Europe, he set out on a voyage from Tripoli last month.
The voyage proved disastrous. Overcrowded, the boat sank off the coast of Tartous, a port in Syria.
Almost 100 people drowned. Of them at least two dozen were Palestinians.
Ibrahim Mansour was among the few survivors.
"After sailing for four hours the engine stopped in the middle of nowhere," he said. "That night was windy and the waves were high, and they got higher as time passed. I heard women and children who were inside the ship screaming. In the blink of an eye, the ship flipped upside down because of a high wave."
Mansour and a few others succeeded in turning the boat the right way around. Some of the passengers who had waterproof mobile phones tried to contact the coast guard.
After about eight hours of waiting for the coast guard – who did not show up – Mansour decided to try and swim ashore.
He was joined by two other men. One was Mahmoud Farghawi, who also lived in Nahr al-Bared; the other was a Syrian named Abed.
They developed a kind of routine. For approximately 30 minutes they would swim, then they would float and rest with the aid of life jackets for another 20.
The routine lasted for another eight or nine hours, Mansour estimates.
"But then Abed disappeared on us," he said. "Mahmoud was completely exhausted and started to hallucinate. We were very thirsty. Then he asked me to help him float for a while, before saying he was too tired to swim. I could not hold him any more because I was also too tired. I begged him to try [and swim] more but he refused. He let go of me and I lost him to the waves."
Mansour managed to keep swimming. Eventually, he made it to safety.
Some reports indicate that Russian and Syrian vessels came to the rescue of survivors.
"No other choice"
Despite his horrific ordeal, Mansour insisted that "I had no other choice" than to board the boat for the voyage.
"I used to tell my mother that I would either take this trip and die at sea or die of depression here in the camp," he said.
Most of the Palestinians who drowned in the disaster lived in Nahr al-Bared. They included the boat's captain, Osama Hasan, his wife and their children.
Ibrahim Mansour knew Hasan personally.
Mansour recognized Hasan's body as one of the many people he saw drowned.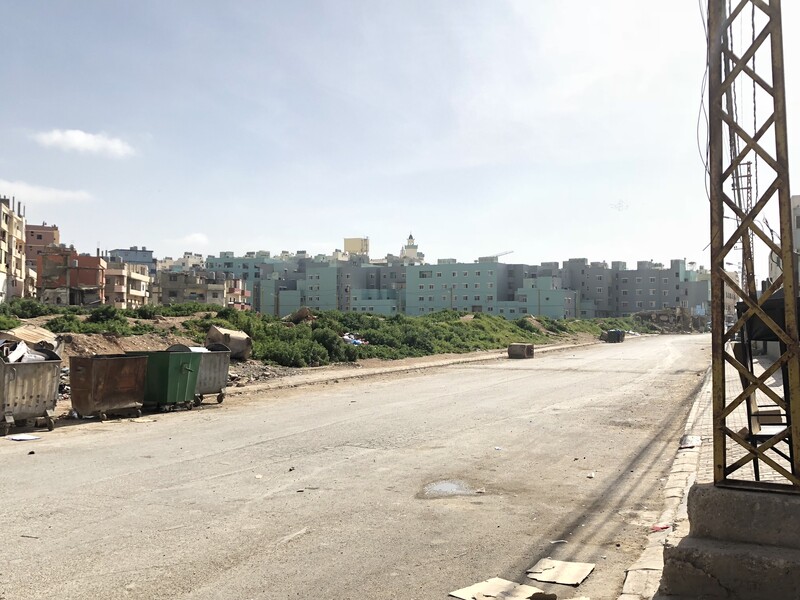 The people of Nahr al-Bared are no strangers to suffering.
The camp was originally established in 1949 to host Palestinians uprooted during the Nakba, the large-scale ethnic cleansing carried out by Zionist forces before, during and after Israel's foundation the previous year.
In 2007, the camp was the scene of protracted fighting between the Lebanese military and the armed group Fatah al-Islam. More than 27,000 of its residents were forced to abandon their homes, UNRWA, the UN agency for Palestine refugees, has stated.
Approximately a fifth of the camp's population remains displaced.
The destruction of 2007 worsened the social and economic problems in the camp.
Data from September 2007 put the level of unemployment in Nahr al-Bared at almost 80 percent – up from 29 percent before fighting broke out earlier that year.
Wael Farghawi, 30, has represented the people of Nahr al-Bared in dealings with an international project aimed at rebuilding the camp. His cousin Mahmoud Farghawi was on the boat which capsized last month.
Mahmoud is among a large number of passengers who have not yet been accounted for, although the aforementioned Ibrahim Mansour has stated that he saw Mahmoud drown.
"My cousin is 23 and did not have a job," Wael said.
Mahmoud sometimes worked as a fisher. Yet because of Lebanon's restrictions, Palestinians are prevented from working as fishers and from taking up many other jobs in the country.
"Grim and unpredictable"
Nahr al-Bared has been largely – though not completely – rebuilt since the destruction of 2007.
The Lebanese army now keeps a tight grip over the camp, limiting who may enter and leave.
As a result, Palestinians have lost the sense of autonomy they used to enjoy, according to Wael Farghawi.
"The environment in the camp is horrible," he said. "I know that the camp has started to look nice after the rebuilding but, to be honest, it doesn't speak to our identity anymore."
Abd al-Rahman al-Sharif is a representative of Hamas in Nahr al-Bared. He has been tasked with liaising between Palestinian political factions and organizations funding the camp's reconstruction.
With the camp beset by unemployment and numerous other problems, he understands why its residents are looking for opportunities abroad.
"I do not blame the people who have decided to emigrate," al-Sharif said. "Our future here is grim and unpredictable. I honestly do not know where we are heading. Look at our young men. They are sitting in the alleyways, doing nothing."
"We do not have sufficient water, yet we cannot dig a well because of Lebanese government restrictions," he added. "We have a housing crisis. But we are only allowed to build four-story buildings. That is not adequate given the population of the camp. You can go across the entire camp and won't find one house to rent. We cannot afford to live outside either. Where are we supposed to go?"
Amena ElAshkar is a journalist and photographer based in Beirut.
Shortlink for this post: https://daysofpalestine.ps/?p=28715